Accommodation
Fast Facts:
Star Rating -





This is a Forbes 4 Star Venue
Number of Rooms - 582
Member of - Destination Hotels
Check In - 4pm
Check Out - midday
Awards:
2017 Travel + Leisure Top 10 Resort Hotels in California - No.9
2017 Forbes Travel Guide Star Awards - 4 Stars
About Terranea Resort
Comments for this venue coming very soon.
*Blue circle is a 1km radius.
Be the first to rate this property
Terranea Resort "Best Things"
Be the first to share the "Best Thing" about this property
** Not Logged in **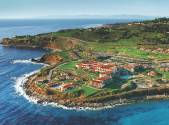 TravelXchange.com.au
Research * Plan * Share
About | Contact | Membership | Privacy Policy